Restorative Dentistry
Make your smile whole again!
Oral health issues can take a toll on your sense of normalcy, comfort, and self-esteem. Tooth decay, gum disease, tooth loss, or orofacial trauma can cause headaches or pain, make it difficult to eat your favorite foods, or cause you to feel self-conscious about how your smile has changed.
Though you can't undo the damage your natural teeth may have sustained, you can still restore your smile's health, fullness, function, and beauty.
With an emphasis on compassionate and customized care, Williams Dental & Orthodontics offers a range of restorative dentistry services to help you make your smile whole again.
Restorative Dentistry Services in Skiatook, OK
Combining modern dental technology with expert techniques, Dr. Brad will thoroughly evaluate your mouth and teeth and offer personalized guidance on treatments that will allow you to enjoy a strong and natural-looking smile for years to come.
Dentures
Partial Dentures
Orthodontics
Clear Aligner Therapy
Implant Restoration
Implant-Supported Dentures
Crowns
Inlays & Onlays
Full Mouth Reconstruction
Missing an entire arch of teeth has a far-reaching impact on your physical health and mental well-being. Though the experience of tooth loss can feel devastating, know you're not alone and that customizable options, like full dentures, can help you reclaim lost comfort and function, support your self-esteem, and elevate your overall quality of living.
Dentures are a set of removable prosthetic teeth that are designed to replace an entire arch of upper or lower teeth. Custom-made for your unique needs, a denture has an acrylic base that matches the color of your gums and a full row of acrylic teeth that complements your facial features and oral anatomy.
The shape of an upper and lower denture varies slightly. The base of an upper denture covers the roof of your mouth (hard palate) for the best fit and maximum stability, while the base of a lower denture is shaped like a horse-shoe to maintain comfortable space for your tongue. Upper and lower dentures fit over your upper or lower alveolar ridge (arch) inside your mouth and are held in place by suction or an over-the-counter dental adhesive.
Whether you need to replace an upper or lower arch of teeth, Dr. Brad will partner with you to create a lifelike smile with the best possible fit. A well-fitted denture enables you to retain oral function, maintain the natural tone in your face and jaw, eat the foods that keep you healthy, and restore your daily activities and interactions to a greater sense of normalcy.
REVEAL YOUR BRIGHTEST SMILE.
Denture Treatment Process
To start your denture treatment, Dr. Brad will thoroughly evaluate your mouth and teeth, ensuring your denture treatment will bring you the most comfort and longevity. Once your mouth is healthy, your dentist will take three-dimensional measurements and impressions of your mouth and any remaining teeth to create your customized denture.
You may be fitted with a temporary denture while you wait for your partial denture to be made. When your new denture is ready, your dentist will adjust your denture as needed for the most stable, comfortable, and natural-looking fit.
A partial denture is a removable set of prosthetic teeth that are used to simultaneously replace several missing or removed teeth on your upper or lower arch. Made of lifelike acrylic, a partial denture fits into your smile like a puzzle piece and is anchored in place with special brackets or clips. The base of a partial denture resembles the color and texture of gum tissue and is supported by a lightweight metal for optimum strength.
Along with providing you with a beautiful, functional smile, a partial denture helps preserve your existing bone structure and prevents remaining teeth from tilting and shifting into the gap created by missing teeth. Partial dentures are strong, long-lasting, and easy to keep clean, making them a great solution for restoring your smile's fullness and function.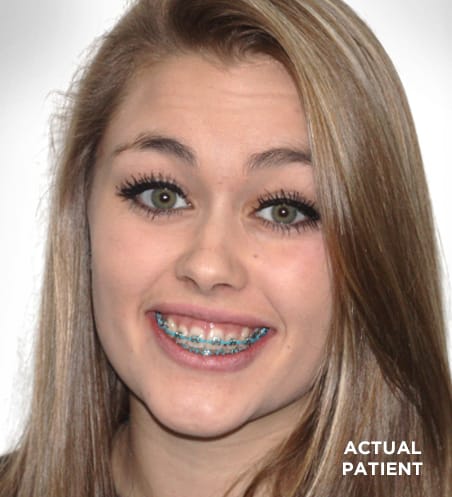 STRAIGHTER TEETH FOR BETTER WELL-BEING
A well-aligned smile can uplift your total well-being. Straighter teeth are easier to thoroughly brush, floss, and clean, while a properly functioning bite promotes a healthy jaw and even wear on your teeth. Last but not least, straighter teeth can also instill confidence about your smile's appearance, which can have a positive impact on your personal, professional, and social lives.
Malocclusion (which means "bad bite") can be resolved with orthodontic treatment. A malocclusion describes upper and lower jaws that don't properly meet and teeth that are crooked, crowded, overlapped, misaligned, or protruded. Often hereditary, malocclusion can also be caused by injury, tooth shape, or childhood habits (like thumb sucking).
If you or your teen are experiencing malocclusion, Dr. Brad will carefully design a personalized treatment plan to correct irregularities and improve your smile's health, balance, function, and beauty with traditional orthodontic braces.
Your orthodontic treatment will be planned with a high level of detail, strategy, and care. Using digital X-rays and impressions, Dr. Brad will create a three-dimensional digital model of your facial structures, mouth, teeth, and bite. This advanced 3D model allows your orthodontist to meticulously plot every detail of your treatment and identify any issues that should be addressed before you get braces, such as wisdom teeth removal or cavity treatment.
Early treatment for children as young as 4 years old, can sometimes prevent major orthodontic issues or make the orthodontic treatment much easier.
In children and teens, braces are often placed between the ages of 11 and 13, or once all of their adult teeth have grown in. Though getting braces during adolescence has advantages, adults of almost any age can equally benefit from orthodontic treatment.
Orthodontic treatment length varies from patient to patient, though it's usually complete within 18 to 36 months.
Straightening your teeth may be more accessible and comfortable than you think. With clear aligner therapy, you can discreetly straighten your teeth while maintaining your sense of normalcy when you eat and brush and floss your teeth.
A LONG-LASTING SOLUTION FOR REPLACING MISSING TEETH
Your smile is a lifelong asset to your daily life and well-being, which is why tooth loss can feel both physically and mentally challenging. You've likely had to adapt to eating and speaking differently and may feel dissatisfied with the way tooth loss has impacted your smile's appearance.
Know that it's perfectly normal to have a range of feelings around tooth loss and that you have options for replacing missing teeth that allow you to reclaim your smile again, such as dental implant restoration.
Like all tooth replacement options, a dental implant is a prosthetic tooth that replaces one or more teeth that are already missing or are currently damaged beyond repair. While all tooth replacement options replace the visible part of your tooth (known as the crown), a dental implant goes a step further by also replacing the root of your tooth with a small titanium post that's surgically placed into the jawbone to mirror the structure of your natural teeth. Titanium is as strong as steel with half the weight and is believed to be the metal that's best tolerated by living tissues (known as biocompatibility).
Benefits of a Dental Implant Restoration
Because they replace the entire structure of missing teeth, dental implants offer an array of desirable benefits, including:
Stability: Because they become a part of your bone structure, dental implants create a sturdy, reliable, and comfortable foundation for prosthetic teeth. Your teeth will be held securely in place without the need for dental adhesives and won't move when you chew or speak.
Bone Health: If you have one or more missing teeth, your surrounding jawbone will start losing its density, which may shift the alignment of any remaining teeth and make your mouth look hollow or sunken. Along with filling the gap caused by missing teeth, dental implants help prevent jawbone deterioration by stimulating the jawbone like natural teeth.
Most Lifelike Feel and Appearance: As they closely mirror the structure of your natural teeth, dental implants feel, look, and function just like natural teeth. Your implants will be designed to complement your facial aesthetic and seamlessly blend with the shape, size, and shade of any remaining natural teeth.
Simple Maintenance: With daily cleaning, routine dental visits, and healthy lifestyle habits, a dental implant restoration can last for decades.
Implant Supported Dentures
What are implant-supported dentures? Like conventional dentures, implant-supported dentures are a set of prosthetic teeth that are used to replace an entire arch of missing teeth. The dentures have an acrylic base that resembles the gums with porcelain or acrylic prosthetic teeth that are customized to complement your skin tone, age, and facial aesthetic.
The difference between a conventional denture and implant-supported dentures is how each is supported. While conventional dentures rely on suction or a special adhesive to stay securely in place, implant-supported dentures are supported by two to eight dental implants and offer the same benefits of a dental implant restoration.
Benefits of Implant-Supported Dentures
Secure Fit: Like natural teeth, implant-supported dentures are anchored into the jawbone, which means they won't slip or shift out of place when you eat or speak.
Natural Look and Feel: Implant-supported dentures are equal parts art and science. While your overdenture will look just like natural teeth, your experience wearing implant-supported dentures will mirror the structure and feel of your natural teeth.
Function: Being able to properly chew the foods that constitute a healthy diet is crucial for every aspect of your well-being. Because of their structure, implant-supported dentures can rehabilitate your bite, so you can chew properly, support healthy digestion, and get the nutrition your body and mind need.
Low-Maintenance: Beyond the intermittent replacement of attachments and clips, your implant-supported dentures will last for years with daily cleaning of your mouth and denture appliances, routine dental visits, and lifestyle habits that support a healthy mouth and body.
Early treatment for children as young as 4 years old, can sometimes prevent major orthodontic issues or make the orthodontic treatment much easier.
In children and teens, braces are often placed between the ages of 11 and 13, or once all of their adult teeth have grown in. Though getting braces during adolescence has advantages, adults of almost any age can equally benefit from orthodontic treatment.
Orthodontic treatment length varies from patient to patient, though it's usually complete within 18 to 36 months.
KEEP YOUR SMILE STRONG AND HEALTHY.
The crowns of your natural teeth are the visible parts of your teeth. They give your smile its shape and shade, in addition to allowing you to bite, tear, and chew the food you eat. Though they're durable and meant to last, crowns are also exposed to everything that goes into your mouth, making them vulnerable to damage, decay, and discoloration. Crowns can also become injured if they're exposed to forces beyond chewing, like an impact to your jaw or face.
A well-timed dental crown can help you protect and save a tooth that's damaged, preserving your smile's integrity, beauty, and function.
A dental crown encases a tooth that's weak, damaged, cracked, broken, or discolored. Crowns are also used to complete a single-tooth dental implant restoration.
Depending on your smile goals and unique needs, Dr. Brad will recommend a crown made from porcelain or gold. Each type of crown offers particular benefits and will be custom-made to seamlessly integrate into your smile and bite.
Porcelain Crowns
Porcelain crowns are made of tooth-colored dental ceramic that closely mirrors the shade and sheen of natural teeth. A strong and natural-looking restoration, porcelain crowns are often desired and recommended for restoring front or very visible teeth.
Gold Crowns
Gold crowns are made of a durable and long-lasting gold alloy that is able to withstand the forces of chewing. Because they're unlikely to crack or break, gold crowns are often chosen to restore molars, as they produce the greatest force while you're chewing.
Falling between a simple filling and a dental crown, inlays and onlays are custom-crafted dental restorations that can repair a tooth with mild to moderate cracking, breakage, or tooth decay.
Full Mouth Reconstruction
REBUILD YOUR SMILE, HEALTH, AND CONFIDENCE.
From stains and discoloration to damage and decay, life can be tough on your smile's overall look, health, and strength. Lost oral health, appearance, and function often make simple habits and activities — like eating, talking, and socializing — uncomfortable, difficult, or embarrassing. Furthermore, feeling like you need extensive dental work to remedy your smile can feel out of reach or overwhelming.
With a personalized full mouth reconstruction, you can rebuild your smile, bolster your confidence, and experience a greater quality of life and sense of well-being.
A full mouth reconstruction is a highly customized treatment plan that strategically combines restorative and cosmetic dentistry treatments to elevate all aspects of your mouth and teeth. In most cases, a full mouth reconstruction simultaneously rebuilds or replaces all of the upper and lower teeth.
The need for a full mouth restoration may result from numerous factors, including:
Multiple missing teeth from decay, trauma, or periodontal (gum) disease
Multiple teeth with failed fillings or advanced decay
Multiple teeth that are fractured, injured, or badly worn due to bruxism (teeth grinding), acid erosion (from foods, beverages, or acid reflux), or an accident (trauma to the mouth and face)
An inherited disorder, such as ectodermal dysplasia, amelogenesis imperfecta, and dentinogenesis imperfecta
Oral cancer treatment
A full mouth reconstruction treatment plan almost always includes multiple restorative solutions to repair your smile's beauty and function. As a full mouth reconstruction is so unique to each patient, the best way to know how long your treatment plan would take is to schedule a consultation Dr. Brad.
Everyone should have access to the best dental care.
To help you get the dental care you want and need, Williams Dental & Orthodontics happily accepts multiple forms of payment. We thank you for understanding that payment is due in full at the time of any treatment.