Welcome to our dental family!
Williams Dental & Orthodontics is a living celebration of family, dentistry, and community. Founded by Skiatook native Dr. Brad Williams (known affectionately as Dr. Brad), our practice is also managed by Dr. Brad's wife, Teresa.
Along with fueling an accomplished career, Dr. Brad's lifelong passion for dentistry has inspired his family to serve others through dental care. Dr. Brad's brother Bruce and sons Alex and Brad II are also dentists, his daughter Lindsey is a dental hygienist, and his daughter McKenzie is a dental office manager. You could say the Williams clan is a true dental family!
Because we believe every person deserves to experience the benefits great oral health brings, Williams Dental & Orthodontics is honored to offer the best in comprehensive and compassionate dental care to you, your family, and the entire Skiatook community.
All Your Dental Needs In One Place
Our goal at Williams Dental & Orthodontics is to make your dental experience positive, relaxing, and easy. With a full range of services in general, cosmetic, and restorative dentistry and orthodontics, our practice allows you and your family to get the dental care you need in one place at every age and stage.
Our practice combines the best of refined experience with the latest advances in dental technology and techniques in a warm, welcoming atmosphere. Along with helping to prevent oral health issues before they begin, our practice is here to help you repair damage, treat dental disease, improve alignment, and uplift your smile's appearance.
Services Highlights:
Dental Implants
Extractions
Braces
Clear Aligner Therapy
Porcelain Veneers, Crowns, and Bridges
Dr. Brad, Dr. Williams, and our entire team are here to help you maintain and achieve a smile that makes you smile because you know it's bright and healthy. We welcome your questions and look forward to providing you with a dental experience that makes you feel great about your smile's health and beauty.
Bradford R. Williams, D.D.S. is living his childhood dream. Since age 11, he aspired to become a dentist and return to his hometown to practice dentistry. Now, he is privileged to live his "dream come true", delivering cutting edge dentistry to the Skiatook community his family has long been a part of.
Born and raised in Skiatook, Dr. Brad is a life-long "Skiatookian". He and his family have served the Skiatook community since 1942 when his grandfather Ralph Williams moved the family to Skiatook from White Oak, OK to begin teaching math and science at Skiatook High School. Dr. Brad's grandmother, Desi, served the community as the telephone operator. Dr. Brad said that growing up in Skiatook reminded him of Andy Griffith's Mayberry because all he had to do was pick up the telephone, ask his grandma to connect him, and he could talk with various elementary school friends, many of whom still live in Skiatook and are friends and patients of Dr. Williams to this day. Dr. Brad's father, Dale, graduated from Skiatook HS in 1949 and moved back to Skiatook with his wife, Ann, where they raised Brad and his 3 brothers (all 4 boys graduated from SHS). Ann finished college and taught senior English for the SHS for over 20 years.
Dr. Brad believes dentistry is his calling because he decided to become a dentist at such an early age. Subsequently, his brother, Bruce and Dr. Brad's sons, Brad II and Alex, have also become dentists. His daughter Lindsey is a dental hygienist while his wife Teresa and daughter McKenzie are both dental office managers, making the Williams clan a true dental family.
Dr. Brad graduated from Skiatook High School in 1975, attended Northeastern State University in Tahlequah, fast-tracking a double major in Chemistry & Biology. While there he earned the Undergraduate Award in Analytical Chemistry and before finishing his bachelors degree, he was admitted into the University of Oklahoma College of Dentistry (OUCOD) where he earned his Doctorate of Dental Surgery in 1982.
Desiring to offer his patients quality orthodontic procedures such as braces and aligners, Dr. Brad joined the American Orthodontic Society (AOS) in 1983, an organization dedicated to the education of general dentist in orthodontics. After years of continuing education in the orthodontic discipline, he became even more active in the AOS, serving on the Board of Directors. He became an AOS Fellow in 2009, earned his Diplomate in 2010, and now serves as the AOS Senior Instructor for the Basic and Intermediate courses in Non-Extraction Straight Wire Orthodontics.
Dr. Brad received training in placing and restoring dental implants in1993 at a training facility in Toronto, Canada and later in Camden, New Jersey. He has been implementing orthodontic miniscrews since 2005. He has collaborated with Drs. Juan Escheverri and Randy Newby in a Temporary Anchorage Device (TAD) overview course and now presents material on TADs in his annual AOS Intermediate/Advance courses.
Dr. Brad has taught orthodontics for the Academy of General Dentistry in Texas and Oklahoma and has lectured on Orthodontics & Temporary Anchorage Devices for the Texas Dental Association. In 2018, at the AAPD/AOS joint meeting in Kauai, he served on the Q&A panel discussion concerning the pediatric practitioner's role in orthodontics. He has written and collaborated on a number of articles for the Journal of the AOS, and has been interviewed by Dr. Ed Gonzales on the, podcast," Orthodontic Smiles".
In addition to his many AOS distinctions, Dr. Brad is also a member of the Academy of General Dentistry (AGD), American Dental Association (ADA), the Oklahoma Dental Association (ODA), the Tulsa County Dental Society (TCDS), the International Association for Orthodontics (IAO), the International Congress of Oral Implantologists (ICOI), and the American Board of Oral Implantology/Implant Dentistry (ABOI/ID). He is also a gold member of the J. Dean Robertson Society of the OUCOD. Through the years, Dr. Brad has also been involved in several South American medical/dental mission trips, from the Amazon rainforest villages of Guyana to the Andes mountain villages in Bolivia.
Dr. Brad and his wife, Teresa, have five adult children and nine grandchildren. His hobbies include reading, drawing, painting, and target shooting with handguns and shotguns. And, over the last several years, he has spent hours upon hours tweaking his PowerPoint lectures and has a true passion for dentistry and teaching. But, most of all, he loves spending as much of his spare time as possible with his wife, his children, and his grandchildren.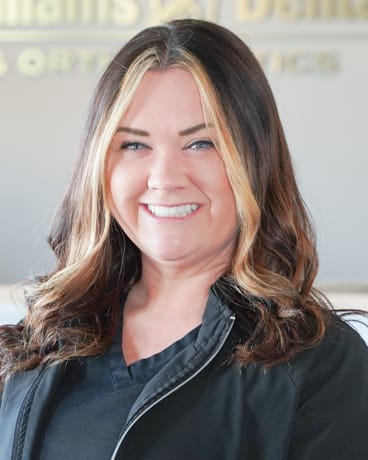 REGISTERED DENTAL HYGIENIST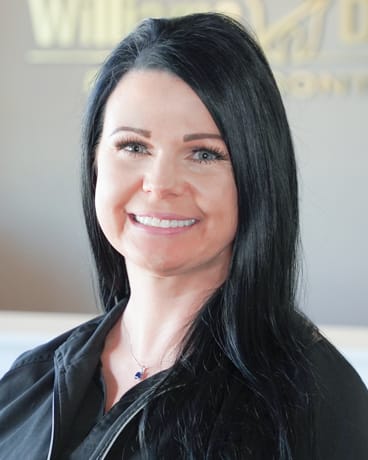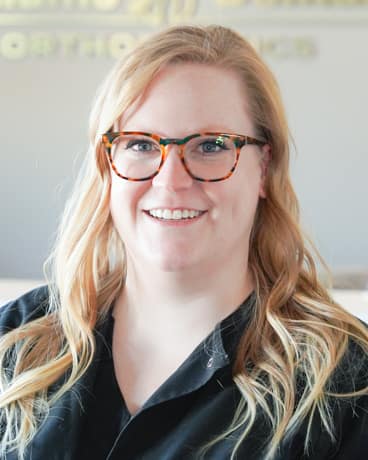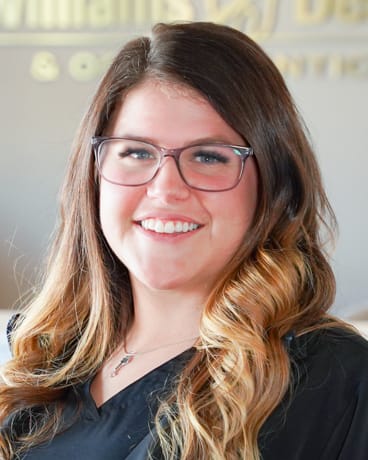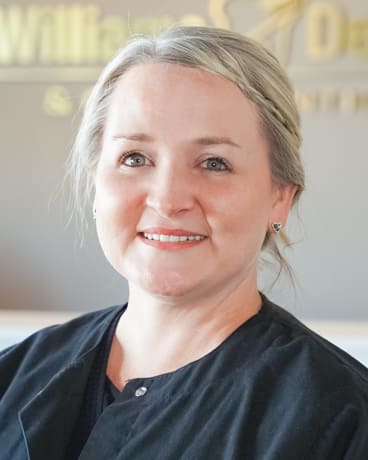 Our philosophy of
care is built on